Trudy Darwin is pleased to be recognised by The CEO Publication as a Top 20 Dynamic CEO in 2021 in the UK PR industry.


April 22, 2021
Trudy Darwin's first corporate job after graduating from University in the late '90s was with what the industry labeled a dot.com, where she worked on the marketing side of web development for eCommerce companies, moving to web-based sales and digital brand awareness. From this, she moved quickly up the proverbial ladder to become Director of Marketing and Sales for global U.S. businesses in industries such as; Telecom, Technology, Training, and Publishing.
During this time, she received ongoing training in sales management and leadership styles. As the Regional Director of Marketing with New Horizon's Computer Learning Center, she also trained as a Channel Sales Manager. She earned certifications in SPIN selling, whose methodology focuses on challenge vs. needs for complex sales processes. She also gained certification as a Microsoft Solution Sales Specialist, focusing on multi-million-dollar complex technology sales strategies. Her ability to motivate and lead across departments and markets is a strong asset to building a remote global team of professionals who are both inspired and loyal to the objectives of supporting Trudy Darwin Communications (TDC) initiatives. "The TDC company motto is #GoTeam, where we focus on building camaraderie with our team and the client's team we work alongside," says Darwin.
When TDC's CEO relocated to London in 2008, she began working as a consultant in the PR industry. The industry was in the middle of digital disruption, as digital media's growing influence was impacting the quality of true journalism.
Startup technology was a growing topic requested by media outlets and high quality consumer-focused editorial was hard to find. It was clear that a one-size-fits-all strategy would not provide results. TDC's bespoke campaigns are built around client objectives and budgets. Understanding and being able to digest complex tech is a tough role for any journalist, and why TDC sources leading technology and business journalists, specifically to drive PR campaigns.

The advent of Social Media
With Twitter and LinkedIn's introduction, Trudy realised these tools could be used as low-cost, high-impact advertising tools for PR coverage. The traditional PR agency model is built around retainers, where often companies make a significant investment, but won't see any coverage or activity, which is commonly acceptable. Trudy wanted to build a model that locks-in cost and delivers results. "This methodology is the core of our business and often why we turn down clients with underdeveloped products or big budgets, where we don't think we can deliver on our ethos, introducing a new TechPR agency model," says Darwin.
Once the model was established, TDC realised clients struggled to utilise press coverage in sales practices properly. Press coverage is the quickest way to validate a product or organisation and is often not executed across sales departments, resellers or partner relationships. "With this, we introduced a full sales integrated service, using press coverage as the fuel to drive customer traction and engagement," she says. "Clients see an increase of 1000% with our programme and have attracted targeted decision makers, achieving values of over 7M in the first six months." Many clients have gone on to fund raise 10M to 30M in investment, on the back of TDC's successful campaigns.
Consumers are far savvier today and rely on influential and proven media outlets to find business news. Companies often confuse quantity of content with quality content. Having a company blog is a great way to showcase business culture, product updates, and use cases, but it is simply the business's opinion. Unbiased media coverage validates products in the market, giving customers confidence in scheduling those initial calls or intros and making it easier to see the benefits technology offers.
With the influence of social media, PR coverage has a new life! In the pre-internet days of PR, a piece of coverage would live for a day and then line the next's days rubbish bin. Now, with social media marketing, that same piece of PR can influence consumers for months and sometimes years. This increases the return on investment by immeasurable value. "We often see where big brands miss the mark on this trick, when they don't share PR across social media channels to influence the consumer journey back to the website or to a call to action. It's a significant loss of investment," adds Darwin.
SEO (Search Engine Optimisation) is also critical when developing editorial coverage and publishing coverage across websites and social media channels. Keywords and search terms are more relevant today in locating targeted content when using search channels like Google or Bing. Industry research and competitor analysis are key in determining what your customer is looking for online and getting your product or service to the top of the list of search results. We build SEO strategy into all of our campaigns.
Working Towards the Future
Trudy and her team have had the honour to work with over fifty new brands over the last ten years and have created award-winning bespoke media campaigns to complement each. "We were introduced to Bridgeworks, a British-based company who had invented a new technology to revolutionise the data centre and data transfer industries," she says. As Bridgeworks technology is so innovative, leading industry leaders dismissed the tech as simply "impossible," at the beginning of our campaign. This made gaining PR coverage challenging, as journalists struggled to understand how this patented tech worked. "As part of our strategy, we integrate an approach to educate journalists and industry influencers and in turn, to educate industry users. Our campaigns deliver significant results year on year, leading Bridgeworks to win numerous global industry awards, beating out the competition and dominating press coverage," says Darwin.
The company is presently offering Free PR Advice sessions to startups or new companies looking to build their brand and launch new products, by contacting hello@trudydarwin.com. "We often recommend new brands plan to incorporate PR once the brand is established and after a POC (Proof of concept) is complete and successful," says Darwin. "Tech startups and Enterprise businesses are often looking for investment or to influence stakeholders. Our campaigns increase brand validity quickly, so that growing brands can target investors or attract attention from the venture capital community around the globe."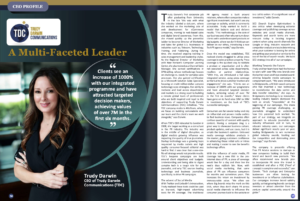 Click here to read the April Magazine Edition pg 56-57 on www.ceopublication.com